Incredimail to Outlook Converter for Forensic Analysis
Incredimail E-mail Program mailboxes are stored as IMM & IML files and these file formats are incompatible to other email programs. And thus it becomes very tricky for Forensic Experts when they are in a process to read Incredimail emails and to do evidence recovery from Incredimail mailboxes.
As IMM files are not readable without Incredimail installed, it will be better for Forensic Experts to switch Incredimail to MS Outlook (popular & easily available email program) with no interruption in Evidence Recovery.
MailMigra for Incredimail will help forensic analytics & experts in converting Incredimail to Outlook format. Now Forensic Experts can easily examine emails from Incredimail. MailMigra for Incredimail is one of the most comprehensive forensically sound Incredimail email examination tool. This Incredimail to Microsoft Outlook tool can easily convert Incredimail email to Outlook and helps to examine all emails, attachments, content, sent details, received details, all header element.
Forensic Benefits of Incredimail to Outlook Tool -
Examine Incredimail Emails - Smartly examine Incredimail email data.
Avoids delay in evidence Recovery - Helps experts to switch incompatible IMM files of Incredimail in MS Outlook quickly.
Complete Forensic Analysis - Forensic Experts can do the complete forensic analysis by analyzing all emails, attachments, header details etc.
Good value for money with prices as low as $45 USD.
Try Before you Buy
FREE Download Now Purchase Now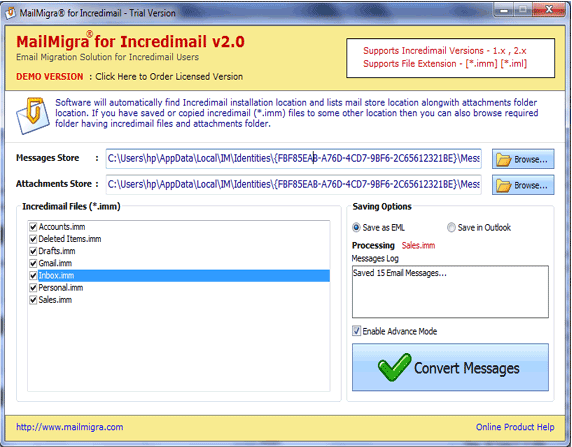 Thus, Incredimail to Outlook by MailMigra helps users to do forensic analysis from all Incredimail email files and supports all version of Incredimail ( Incredimail 1.x, Incredimail 2.x). Not only does an Export Incredimail Tool save your time & money, but also turn the seemingly best tool for Incredimail Forensic Analysis tool.